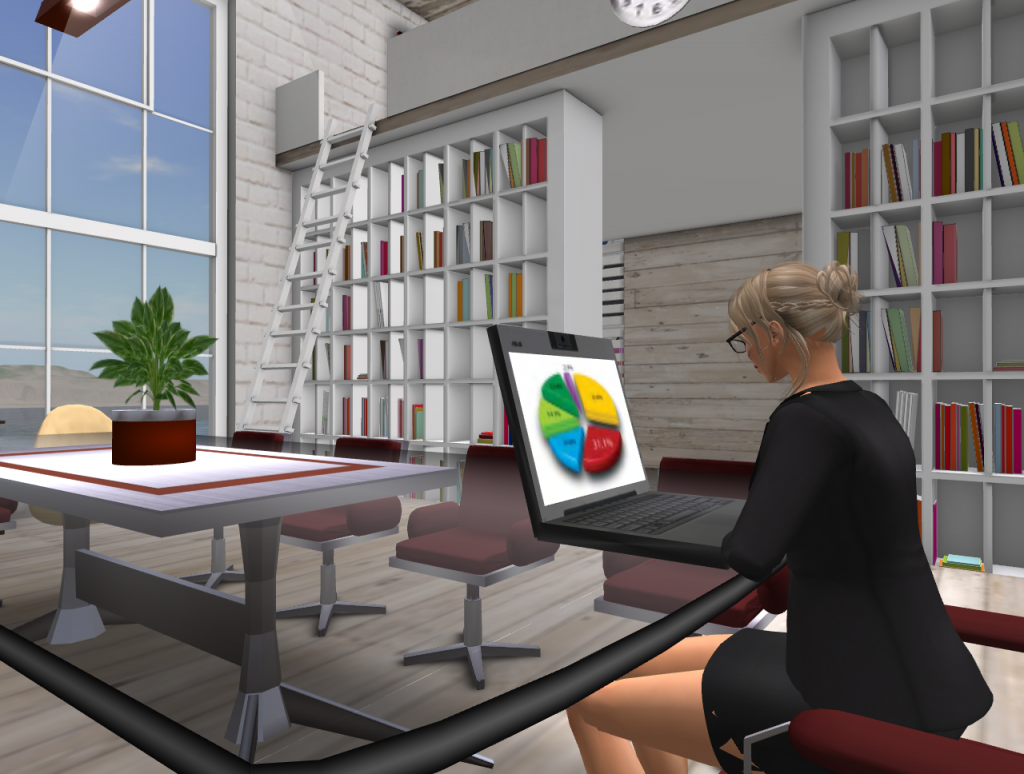 You did the foreplay. You have set up your blog. You are committed to become a professional blogger and you have published your first few blog posts.
Now you might be asking yourself:
But where does the money come from? Well, you could waste your time and write paid reviews about virtual products.
Nope. Been there done that, got the t-shirt. That is actually all I got out of that, a few other virtual items to test for free and a couple of Linden Dollars (L$).
The reason it doesn't work is this: There are hundreds of useless Second Life fashion blogs. Creators and shop owners went down that route already with little to no success.
Let's sell adverts to shop owners in Second Life then. Yes you can do that. Look at Strawberry Sing's blog. Selling ads is her business model.
Once you have an audience like Strawberry Sing, once you have produced as much content as Strawberry Singh and once you have a reputation like Strawberry Singh, you might be able to sell adverts for about 150 US per year.
Here the prices for her adverts:
https://strawberrysingh.com/advertise/
150 US is what Strawberry Singh charges for her most expensive package. If she had 100 advertiser, each of them paying her 150 US per year she would make 15.000 US per year.
Not a lot of money in my books. And that is based on the most expensive package (the cheapest one is about 10 US for a month) and based on already having sold adverts to 100 advertiser.
I tell you something: She doesn't make even half of that! And that is one of the most successful and most popular blogs about Second Life.
Forget about it.
What is the answer then? It is affiliate marketing. For the newbies out there, what exactly is affiliate marketing?
Quite simply, affiliate marketing is the process of earning a commission by promoting other people's (or company's) products.
What you do is: Instead of charging for advertising space on the blog, you get a commision everytime a customer (who was referred by your blog to the advertiser) buys the advertisers product.
Here is the big difference to selling adverts. The key here is : EVERYTIME! This is what makes affiliate marketing scalable. It is repeat business. You are building a customer base over time producing steady revenues.

Our niche is sex! Virtual sex. It is an industry where advertisers pay top commissions. We have affiliate programs paying 50% in revenue share, every time a customer makes a purchase.
This one for example:
Step 7: Sign up for an Affiliate Account with istripper
Why istripper? Think about it. Every month there a 600.000 people logging into Second Life. Many of those do so, to see virtual sex. The perfect audience isn't it?
If you are new to affiliate marketing you need good support. Istripper offers excatly that. There is always an affiliates manager available when you have a question. You actually add him on skype. Mine is called Jonathan and he has been very helpful so far.
Another important point is the quality of the advertising material and the sales pages (also referred to as landing pages). I am testing the popping models at the moment.
Sign up here (free of course): The Istripper Affilate Marketing Program
Step 8: Produce Content
Now wait!
The biggest mistake new bloggers make is to place too many adverts or too early. I know it's tempting to place as many different programs on the site as quick as possible.
Don't do it. It is wrong.
You start with one affiliate marketing program: Istripper! Once you have more content to show you might add another program. Make sure you have written some quality posts before you place your adverts.
This is crucial, because you need to keep a balance between content and adverts. If Google finds your site and all you have to show is affiliate links, they will not rank your site well. They might not even index it.
Google doesn't have a problem with affiliate marketing in general. But they do not like websites, which do not provide enough value to the user and look like as if their sole purpose is to place affiliate links.
Be patient. Publish at least 10 blog posts before you place ANY adverts. Wait until your blog is listed (indexed) in Google. In another part of this guide, I will show you how to place adverts on a wordpress blog.
For now: Get your stories and publish them. The more the better.
What you could write about:
My most popular pages on the blog are the reviews & guides. I wrote a guide about how to have sex in Second Life. Another one about roleplay on Gor.
The most popular ever is my review of online sex games. That page gets more than 10% of all the traffic of the blog.
Another one who is doing quite well is: 10 most popular sex places in Second Life. You could write similar posts. For example: what are the best BDSM locations in Second Life.
Guides and reviews are what I call the "cornerstone pages". Those are pages which you will link to from other pages and posts and are part of the main navigation or part of a footer links section. Ideally they are not posts but static pages.
This way you have each and every page of your site supporting those pages, making them rank better in google. Everytime you publish a new blog post you will generate a link to those cornerstone pages.
You don't have a story yet for your character? I tell you what my most successful storyline ever was: Working as a call girl.
If you want to do the same and don't know how to, contact Sleen Squall inworld. You get training to become an escort girl.
Whatever it is you have chosen as your storyline. Get going, produce content!